Spammers and Hackers are becoming increasingly frustrating these days as website and server owners try to mitigate their overall impact on their assets.

Spam emails are responsible for over 14.5 billion messages per day globally (https://www.spamlaws.com/spam-stats.html) meaning 45% of all emails sent are spam.

Spammers are defined as email marketers with no ethics or business etiquette.

They typically come in two types: the everyday person who focuses on sending out hundreds of thousands of junk emails looking for the statistically proven .01% who click on the link or buy into their bs.

They don't care about using legitimate forms of email marketing or advertising principles and techniques.

The other type is criminal where they form sophisticated crime rings that focus only on stealing your money or personal information. 

Once stolen they will resell your personal information to other spammers or hackers.

They will also use the information to target your finances or business assets.

This type of spammer is also hackers who can write code that automatically opens up on your device once you click their cleverly disguised link. 

Usually the code is malicious and adds your device to an already large group of other devices used to form an array or network also known as "bots".

These bots can target millions of people by using the array or network of devices to send out a thousand times more spam than could be sent from one or two devices etc.

And it can be done in record time while being almost impossible to trace back to the original sender.

Email marketing is big business and if done correctly targets only those people who opt in to a form or sign up for a service and therefore are added to an email list.

Legitimate email marketers actually put in the time and effort to organically build an opt-in email list, and consistently deliver subscribers helpful and relevant content through quality email marketing techinques.

This is a highly effective means of selling to a group of buyers who wanted your products or services when they signed up or subscribed to your list.

The problem is that the majority of email marketers in the world today don't follow the standard laws and rules that apply to email marketing because it is usually too expensive to track them down.

They constantly change ip addresses, domain names, and servers to stay a head of those who may try to track them down.

They are even able to spoof the from line (return address) of the email along with ip address or domain name the email originates from using code developed by hackers which is sold regularly on the "Dark Web".

Because they can make the origin of the email look like it came from a legitimate person or business the bounce backs or complaints find their way to the wrong culprit.

The more sophisticated spammer is now able to use a canned email address from gmail, hotmail or yahoo etc to help ensure that their email is being opened.

Because the canned email accounts can be closed and set up with ease, spammers rely on this form of email service provider more than anything else.

They know that the majority of people in the world also rely on a canned email service provider to receive and send email for the same reason (ease of use).

Internet Marketers The New Kid on The Block

A new breed of spammer has just reared its ugly head in recent years also known as an "Internet Marketer". 

The majority of legitimate internet marketers follow the rules and laws that govern email marketing. 

However, this new breed does not and when you click on the unsubscribe link it never works or looks like it has but alas it has not. 

They use the unsubscribe link to confirm your email address not remove it.

This new type of spammer also uses the information gathered when you click on the unsubscribe link to add you to another list separate from the one you want to unsubscribe from and resell it to other internet marketers and spammers.

This is why you'll see very similar if not identical emails from different internet marketers who claim to have gotten your email address when you subscribed or registered with them. 

They too will provide an unsubscribe link that starts the process all over again.

The advice than would be to never purchase anything from anyone you didn't sign up for regardless whether you feel it is a good product or service.

Instead try to use legitimate business models and ethical marketers when buying online.

A legitimate internet marketer will answer all your questions and provide support for the product or service that you purchased.

He or she will not resell your personal information to any other entity because they know the value of keeping a list that never targets someone who doesn't want to be targeted.

They will also create a product or service which has value that can be used as advertised when purchased.

Where as an illegitimate internet marketer will provide generic or poor quality products or services that can be created in as little time as possible
.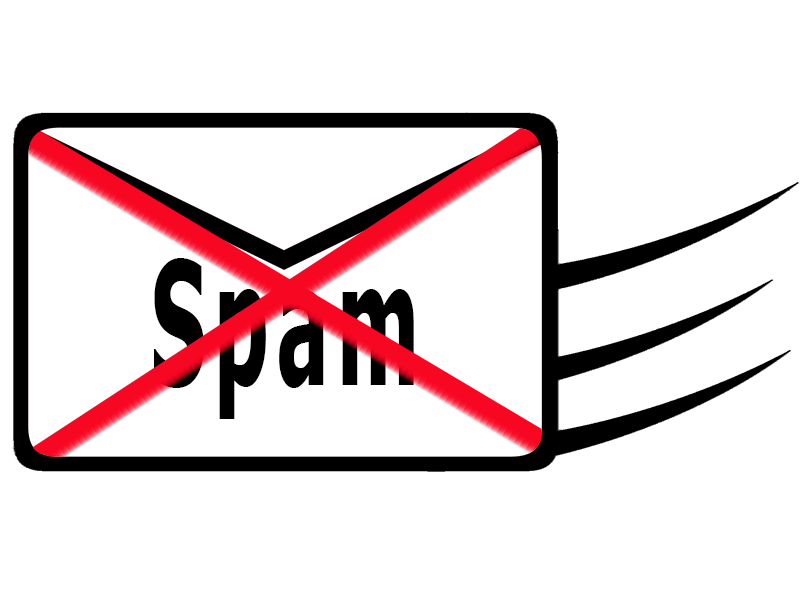 Tips on How to Mitigate Spam Emails

The two most popular email programs on the market today are Microsoft's Outlook and Mozilla's Thunderbird.

These two email programs are installed on your device to allow you to send and receive emails.

We will show you two ways to filter out spammers before they get to your inbox using these two email programs.

Below each step is a screenshot of the process in Outlook to help you better understand.

Microsoft's Outlook

* Open Outlook and click the rules tab in the top menu and a drop down sub menu will show. 
* Click the manage rules & alerts sub menu and the rules & alerts window will open.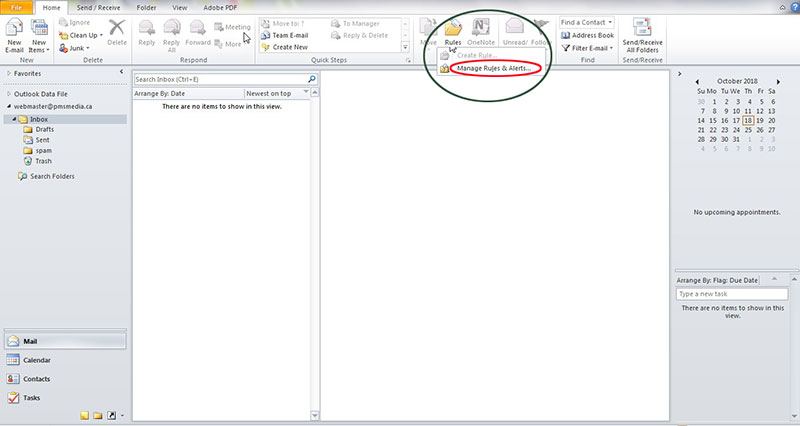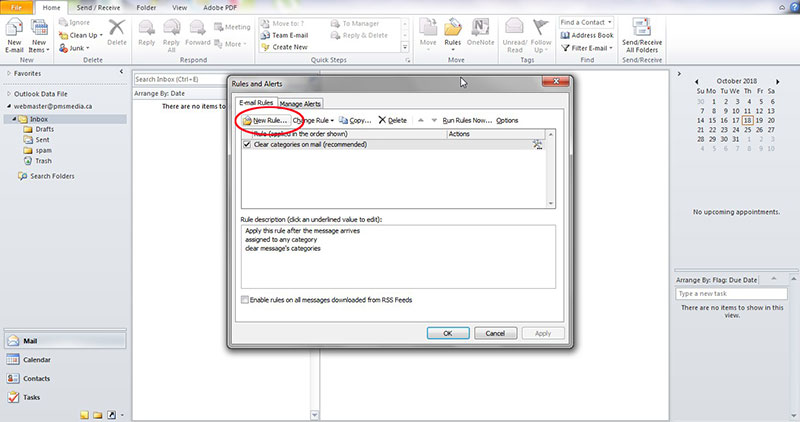 * Click on the new rule tab and the rules wizard window will open to allow you to create a new rule.
* Make sure that the "move messages with specific words in the subject to a folder" is highlighted and proceed to the bottom to step 2. 
* Click on the "specific words" link and the search text window will open.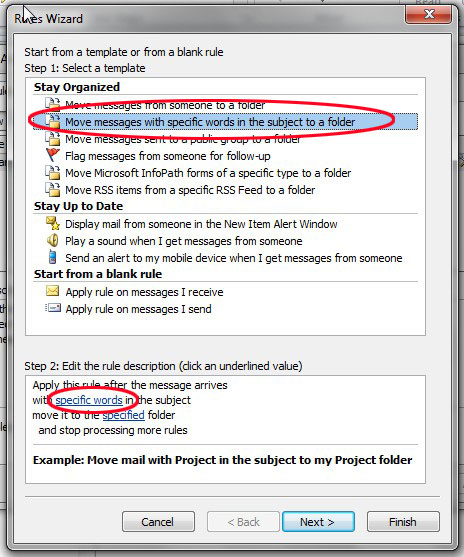 * Type in the word (s) or phrases into the first box and click add. Your word (s) or phrases will appear in the second box below.
* Click the okay button and the rules wizard window will update step 2 to show your word (s) or phrases in place of the "specific words" link.
* Next click the "specified" link text in step 2 and a window will open to allow you to choose or create the folder you want to move the word (s) or phrases to.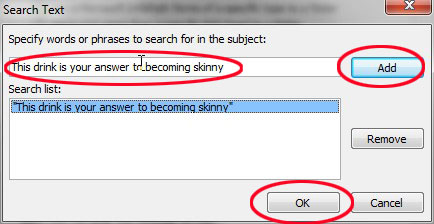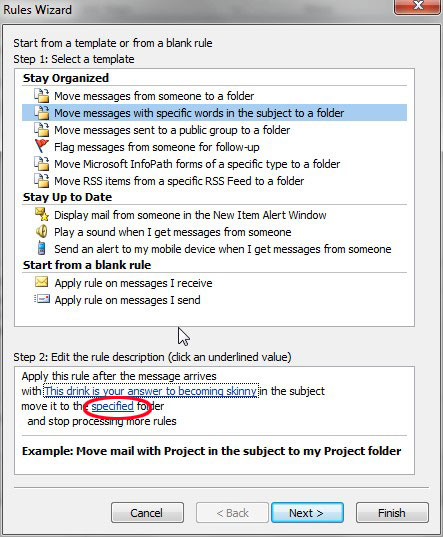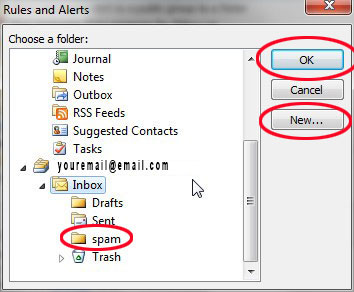 * After you choose or create a new folder for your filter to use, click the okay button and the rules wizard window will open so you can choose your conditions for the filter.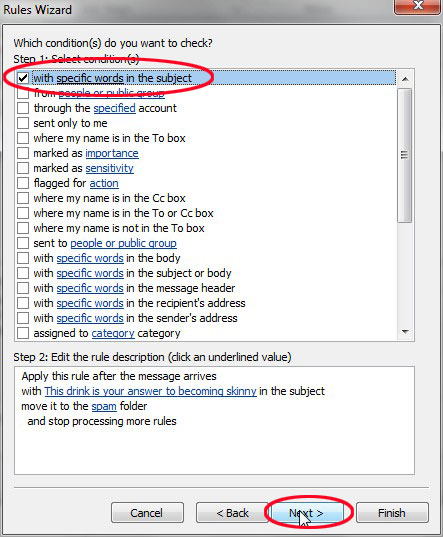 * After you choose your condition (s), click the next button and the rules wizard will give you the opportunity to choose the specific action for your filter.
* In this example, we've chosen the first two options because we want to move the spam to the spam folder so we can make sure it is indeed spam.
* However, if you are absolutely sure that it is spam you may want to check the delete option or another based on your preference.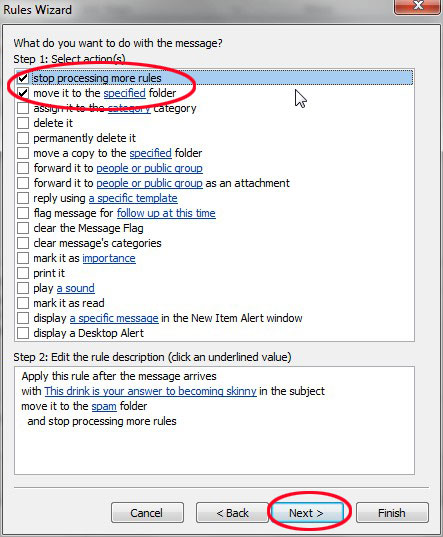 * Once you've chosen your filter action you click next and the rules wizard will give you an opportunity to create an exception rule if there is someone or something you don't want this rule to apply to.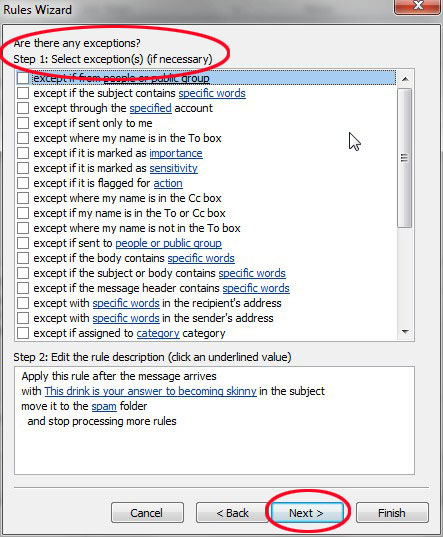 * After you've chosen an exception or not, click the next button and the rules wizard will ask you to create a name for your filter if it is different than the word (s) or phrases you want to filter. 
* Click the finish button to be taken to the email rules window to view your filters listed.  Click apply or okay and you're done.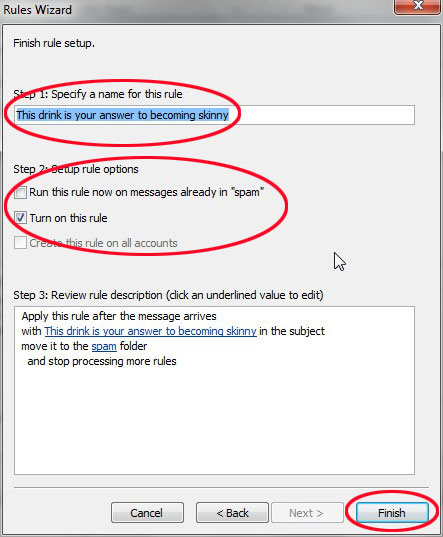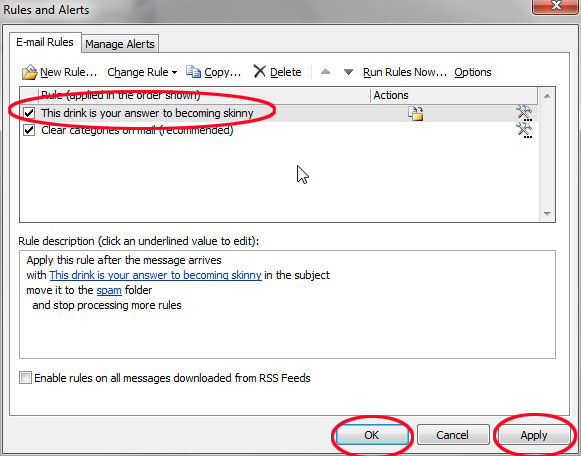 That is it for setting up filters using Microsoft's Outlook. 

Of course your filters may be different than the ones presented in this tutorial so just create filters, conditions, and actions for the spam you want to filter.

Mozilla's Thunderbird

* Open Mozilla's Thunderbird and click on the "tools" tab menu. 
* A dropdown sub menu will open and click on message filters.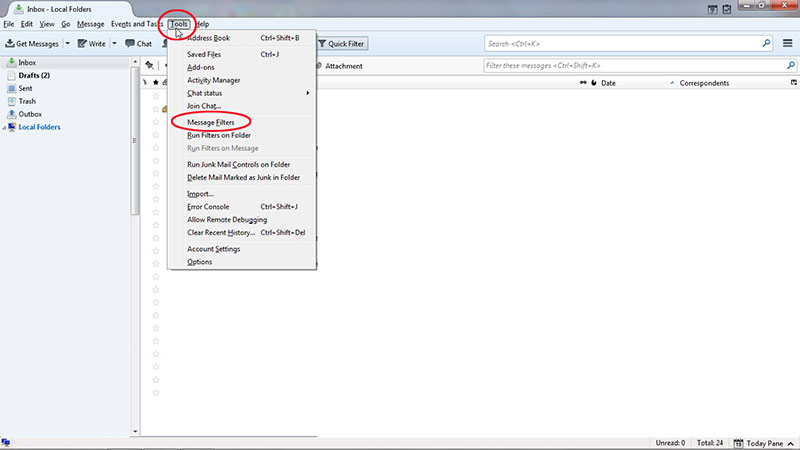 * Once you click the message filters link another window will open where you will create your new filters. 

* Click the "New" button. Another window will open allowing you to create a name for your new filter.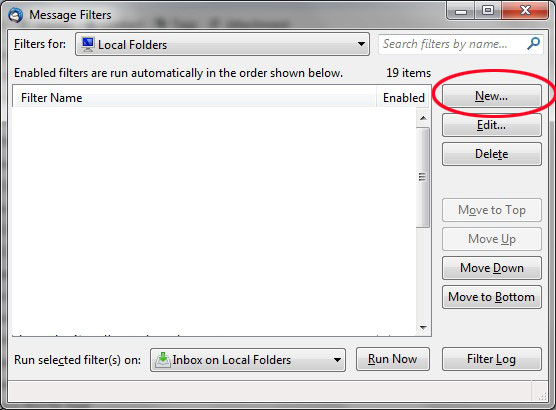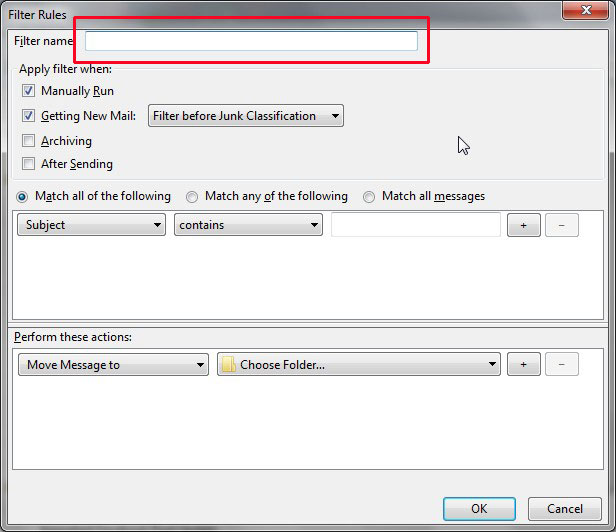 * After you give your new filter a name (or not) you will click on the "Subject" button which will present you with a dropdown sub menu with choices of what you want to filter, ie: subject, from, body, date etc. 
* Choose the option you want to filter and then click the "contains" button to choose your content options to filter.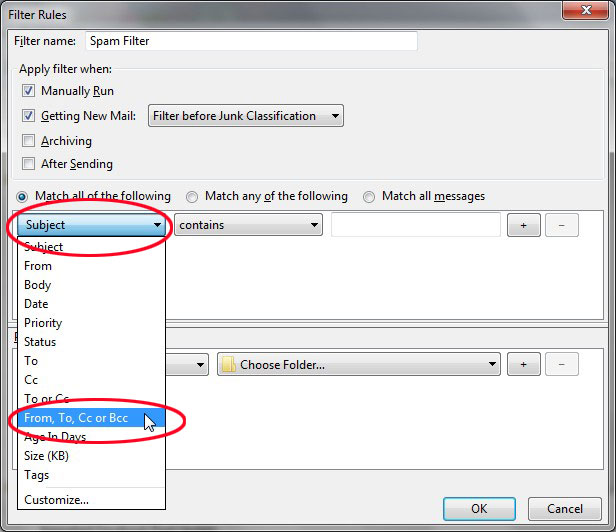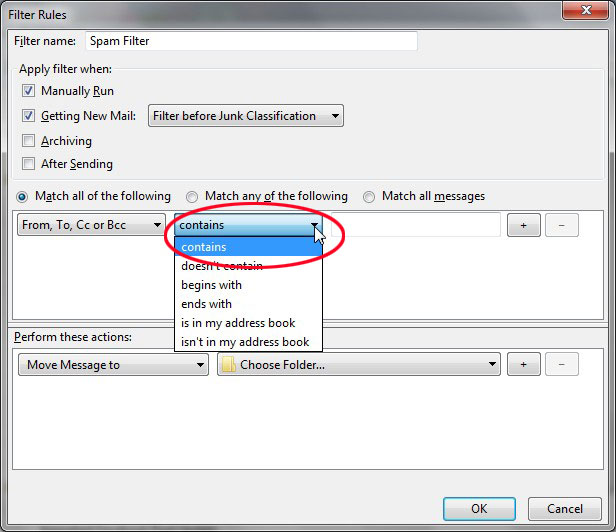 * Next you want to click on the message action button to choose what action you want your filter to take. 
* We like to choose the delete option or delete from pop server option if we are positive it is spam. 
* You could also choose a folder to move it to in case you receive mail with similar options that you may want to read.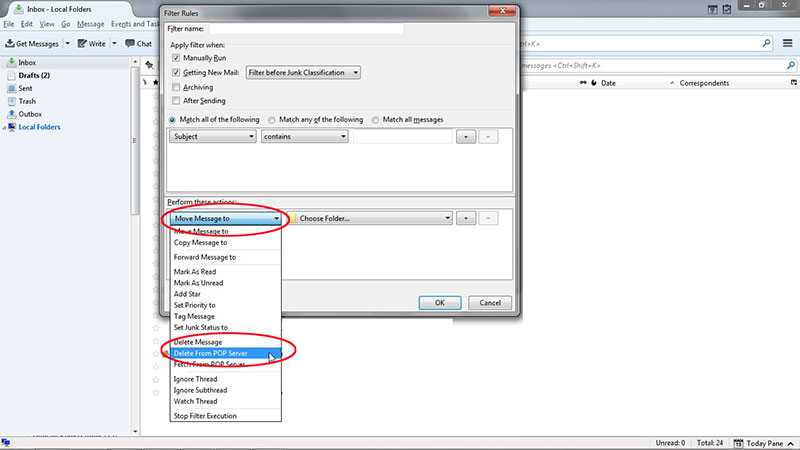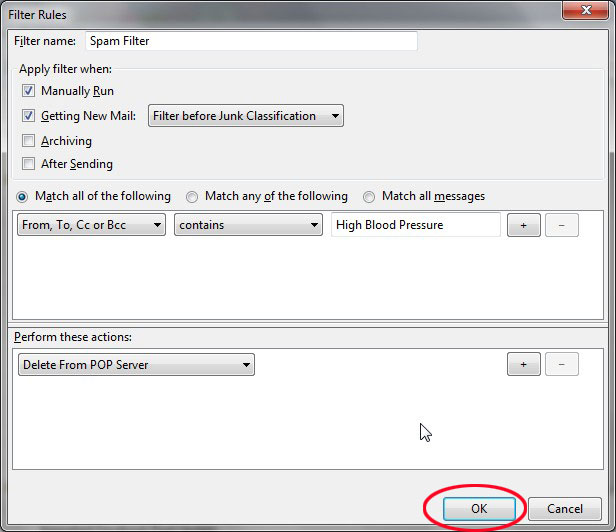 * Click okay and that is it.  
* To finish click the red X in the top right corner of the window that opens up to show you the list of your new filter(s).
* Or at this stage you can also run your filters on the message(s) you have and than close the window.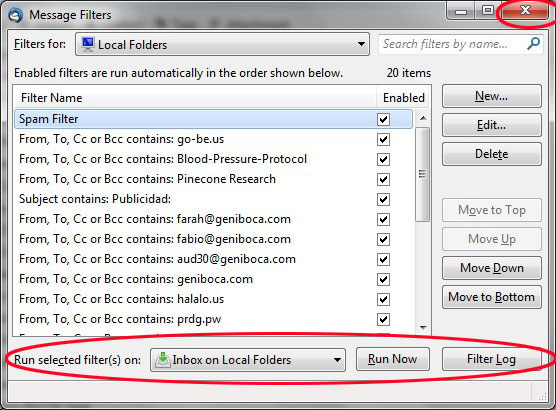 Remember no technique is perfect in mitigating spam so keep trying different tactics with the options provided by all email service programs that allow the use of filters.  This way you'll be able to find what works for your email server. 

Here is another good page of tips for mitigating email spam (https://www.lifewire.com/popular-anti-spam-tips-tricks-1174035)  for you to check out.

Hopefully this article helps you to mitigate some of the spam that finds its way to your inbox. Enjoy!
Posted on